UPRAWA
/ ROZMNAŻANIE / 3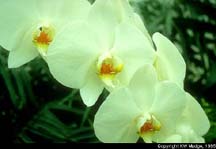 In Vitro Asymbiotic Orchid Seed Germination (Flasking)
Hort 400 Orchid Laboratory Exercise
By Kennthe W. Mudge,
Department of Horticulture, Cornell University, Ithaca, NY
(kwm2@cornell.edu)

Thumbnails of all 24 pictures used in this laboratory exercise.


This laboratory exercise was developed by myself and my graduate student, Chin-Chang Chu, in 1992, and is published as: Mudge, K.W. and C.C. Chu. 1992. Novel laboratory exercises in plant tissue culture: in vitro asymbiotic germination of orchid seeds. HortTechnology 4:315-317.

Review this autotutorial before the orchid tissue culture laboratory, and be prepared to answer the questions posed below.